This post has been compensated by Collective Bias, Inc. and its advertiser. All opinions are mine alone. #TeaProudly #CollectiveBias
Now that the holiday season is in full swing, our schedules are crazier than ever and it's likely that the majority of us are feeling stressed and overwhelmed. It may seem hard to find time for ourselves this time of year, but there are actually several ways to relax and unwind that don't require a lot of time or effort. If you're struggling with finding time for yourself during the Christmas season, here are a couple of my favorite ways that always work for me.
Relax With A Hot Cup Of Tea
Without a doubt, relaxing with a hot cup of tea is one of my favorite activities. It doesn't matter which season it is or whether it's morning or night – if there's a hot cup of tea available, I'll be all over it. There's just something about freshly brewed tea that's incredibly calming. The way the scents and flavors combine to create a truly nostalgic experience…it's one of my favorite things. My tea brand of choice is Bigelow. I've been using their teas for several years, and they've proved to provide extremely high quality brews as well as being easily accessible at my local Walmart. For the fall and winter seasons, my favorite blend is definitely Constant Comment. While the name is quite unique, the blend of flavors is very familiar to me. Black tea, orange rind, sweet spices…all things that are traditional and essential to my autumn experience. I love brewing a cup of this when I first wake up in the morning. It's the perfect accompaniment to start the day, and it really helps set a festive mood. If you'd like to learn more, feel free to check out Bigelow's Facebook, Twitter, and Instagram.
https://r.curalate.com/v2/widget/elHcdJfX7HYpleSNXisWZV3w4KQoIY86?shopButtonText=View%20Details&replaceTabs=false&autoShowProducts=false&spatialTagIcon=tag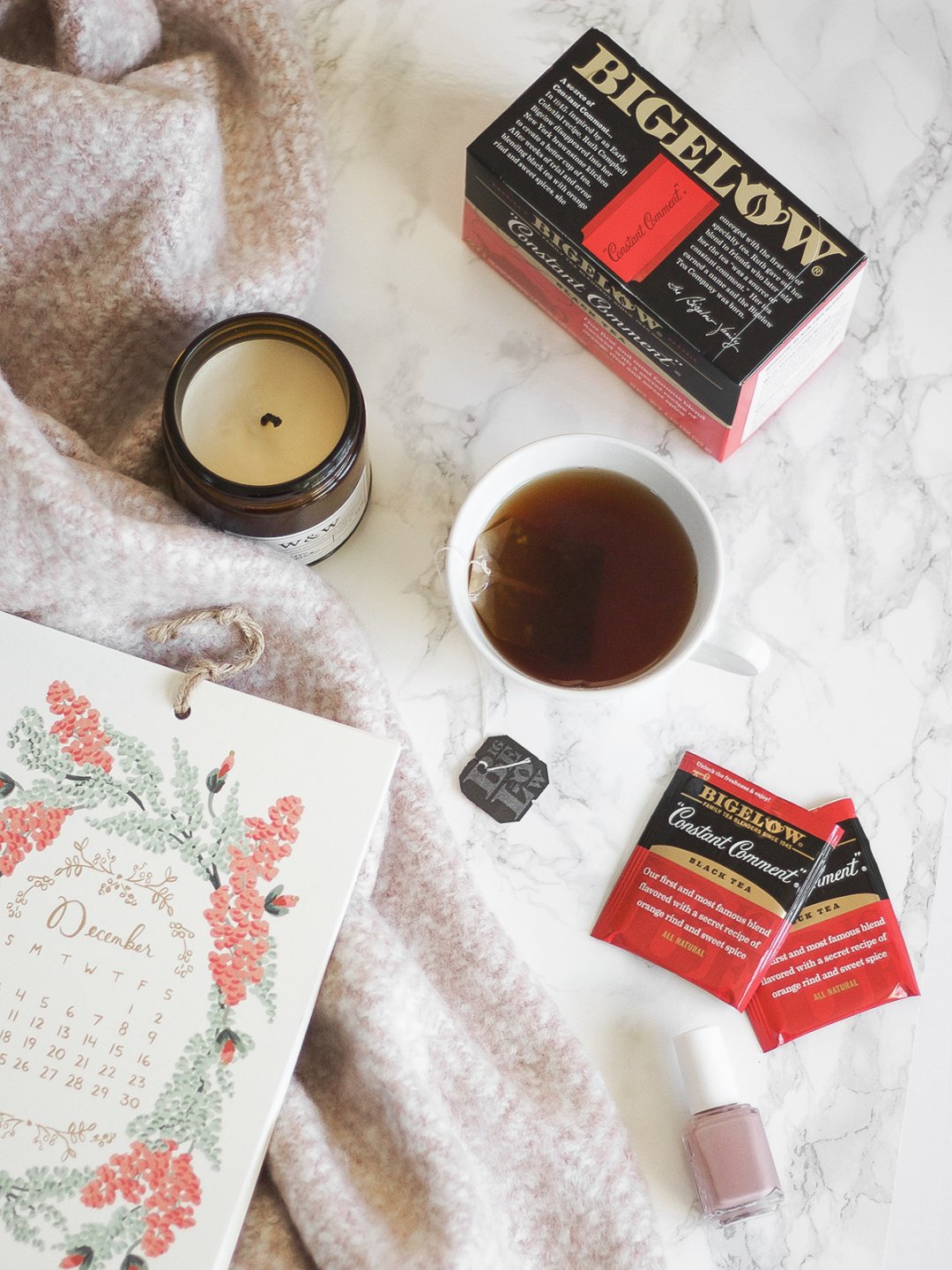 https://d30bopbxapq94k.cloudfront.net/js/curalate-widget-client-all-v3.min.js
Interested in enjoying a hot cup of Bigelow Tea this fall season? Hover over the photo to click through to Walmart.com and buy it!
Curl Up With A Good Book
When I find that I have some extra free time or am in desperate need of an escape, I love curling up with a good book for an hour or two. Reading is a great way to chill and unwind. When I'm having trouble feeling sleepy at night, I find that getting through just a few pages of my current read helps me to get drowsy enough to doze off. I recently shared my autumn reading list if you're looking for some new books to check out, plus Goodreads is always a great place to find recommendations.
Take A Hot Bubble Bath
One of the more well known ways to take some time for yourself is by taking a bubble bath, and for good reason. A hot bath with some nourishing oils and lots of bubbles is a great way to quickly rejuvenate the senses and replenish your energy. Even if you only have 20 minutes before bed, take the time to draw a quick bath – not only will it help your muscles unwind after a long day, but it will also allow you to fall asleep faster and have a better night's rest.
Explore Nature
Now is the perfect season to get out and explore nature, and a leisurely walk can be a great way to clear your head. The weather is nice and cool, leaves are still changing colors, and the local walking trails are perfectly primed for some exploring. The next time you find yourself with some extra free time, take the opportunity to get outdoors and soak up some fresh air (this is also a great time to take your camera and get some new stock photos for your blog).
Indulge In A Nap
Since most of us don't get enough sleep anyway, I think it's extremely important to allow ourselves to indulge in a nap every now and then. We're always denying ourselves of simple things like naps, but sometimes you just need to dim the lights, curl up with a comfy blanket, and catch some zzz's. Life is short! It's okay to take a nap.
What's one way you're making time for you this season?